Kitchen & playroom organisation, Esher
"Di is fantastic! She helped me in a number of rooms to reorganise and declutter. And throw stuff out!! Which I just wouldn't have done on my own. Would most definitely recommend Simply Organised"
Teenage bedroom declutter, Addlestone
"Thanks so much Di, my daughter was over the moon when we saw her room...I've barely seen her since! Thank you for creating a little haven for her; it was such a pleasure working with you"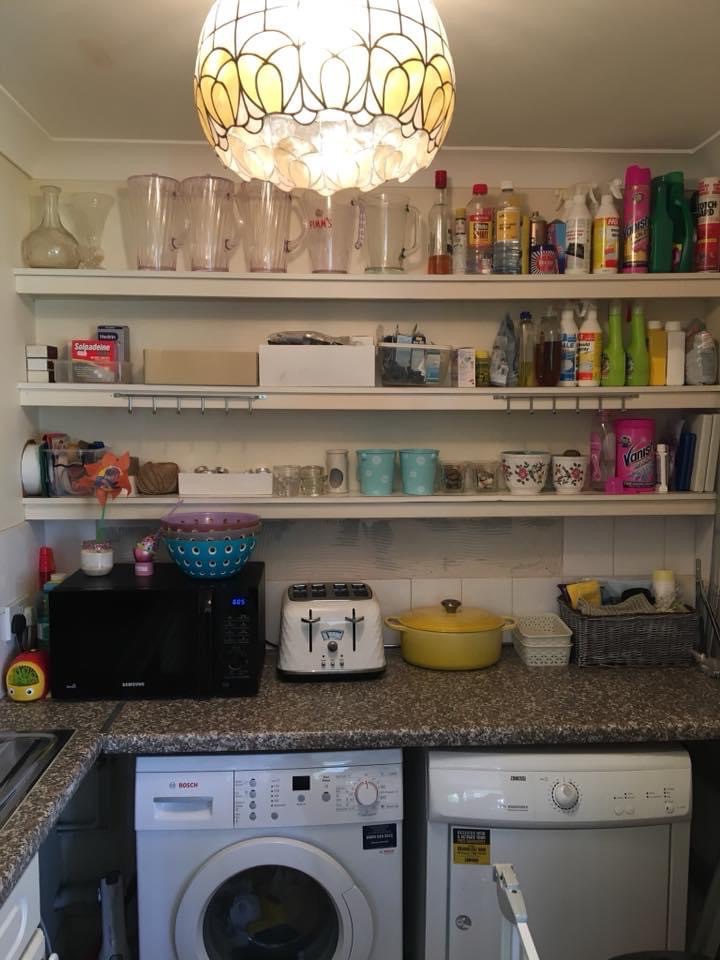 Kitchen declutter, Wimbledon
"Thanks so much for yesterday, Di. Was great to meet you and I feel so much better about the kitchen. Even the two boys were impressed when they got home..!"
Playroom organisation, Claygate
"Having Di's help has been amazing! She has helped us with sorting out the dreaded toys and kids crafts cupboards (I can actually find and use things now!), she helped us declutter and sort before we moved and was a huge help unpacking us into our new kitchen. Having her help made everything so much smoother and less stressful and all done with a lovely smile and a few laughs along the way too! Thank you for everything Di!"
Playroom, Esher
"Di has turned my playroom from 'the room of doom' into a workable space where the kids can actually find their toys. She worked tirelessly helping me decide what to chuck, recycle, charity shop or keep. We culled 5 bags worth (3 for charity) of stuff hiding at the back of the deepest cupboard. But possibly the best part of all - not only did she help categorise everything into boxes ... she put beautiful labels on them - which makes me happy every time I walk in the room!
The kids came home and immediately got excited about their 'new' toys. Such an enjoyable and productive session, thank you Di. You've got me on a roll!"
Kitchen & study, Surrey
"As someone who really struggles with their organisation skills making the decision to call in an expert was one of the best things I've done. I contacted Di from Simply Organised and we discussed my problem areas and what I was hoping to achieve with the process. My goal was to have a tidy but workable kitchen and to have a study which was as paper free as possible.
I spend a lot of time cooking so the complete reorganisation of my larder cupboard into categories made perfect sense and now it means I can lay my hands on whatever ingredient I want quickly and without having to pull everything else out first.
Di also came up with some fabulous storage ideas for my fridge again making it instantly tidier and more user friendly.
With regards to my study, Di went through all my paperwork discarding accumulated papers, many of which were out of date or been superseded. The remaining items where then categorised, labelled and filed neatly in storage containers.
I wouldn't hesitate to recommend Di and her organizing wizardry to anyone who wants practical and workable solutions"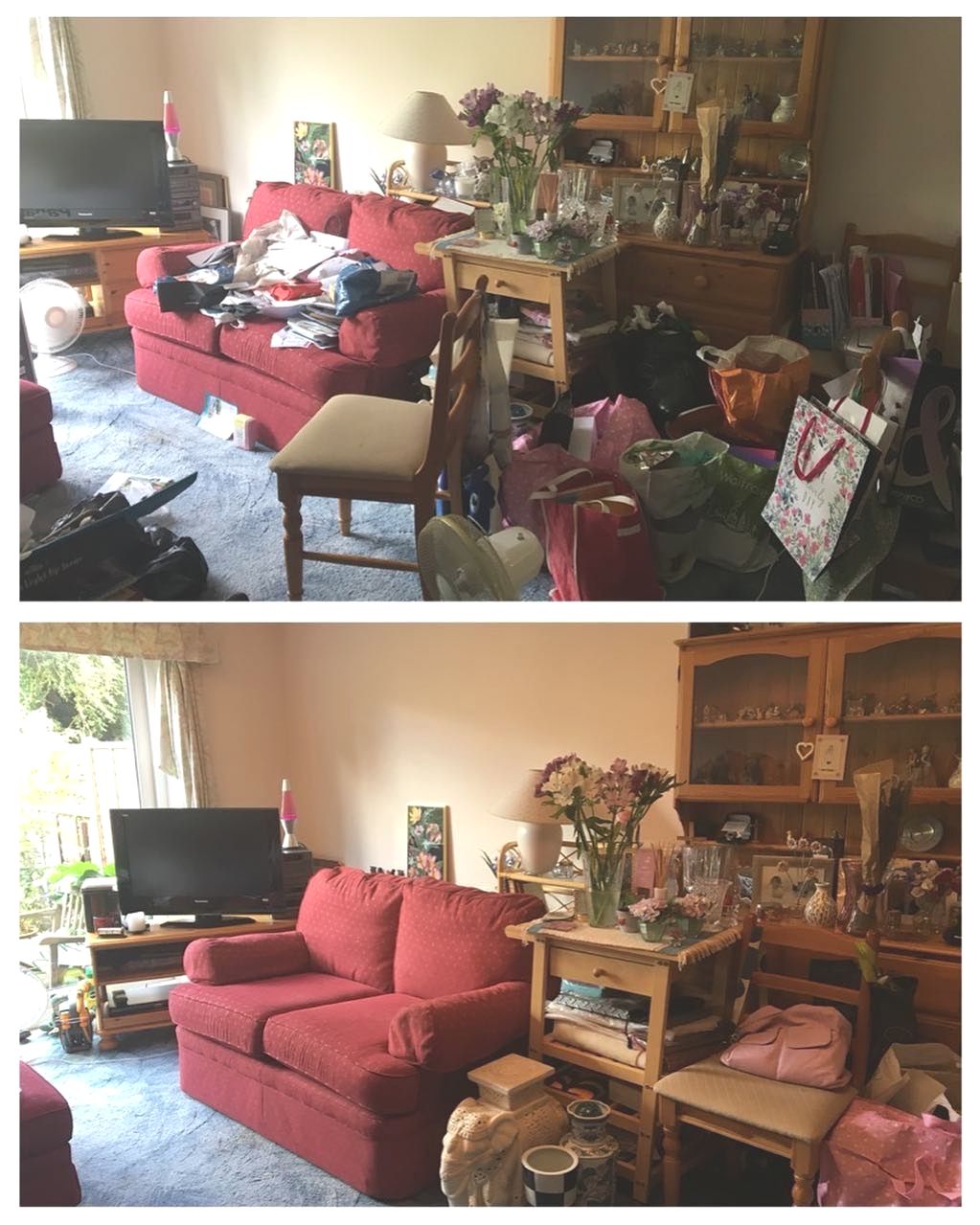 Living room, Surrey

"Di came to help me and did a great job! I'm a naturally untidy person and found her to be kind and supportive whilst tidying and organising my living room together. I was always in control but got lots done in the time. Many thanks and would recommend her to help others declutter!"
Wardrobe edit, Claygate
"What a fantastic service! Thank you so much Di. I was feeling in a complete rut. Small house, two kids and so much clutter. We achieved so much in the time Di was here and I feel so much more positive about my home.
It's much easier to keep the house organised now and stuff has a home. Plus I've got more space. It felt fun doing this with Di, like a friend coming over and we got so much done I couldn't believe it.
I would highly recommend this service to anyone, in fact I've already recommended Di to lots of my friends"
Paperwork system & filing, Weybridge
"I moved house four years ago and also had lots of other changes in my life. I was struggling to get my paperwork organised and this was really getting me down.
A friend gave me details for the APDO Website and I clicked on "Find an Organiser" and found Di! I called Di and she came the next day and worked her magic. So if you are struggling with organising just contact Di and she will work her magic for you too!!"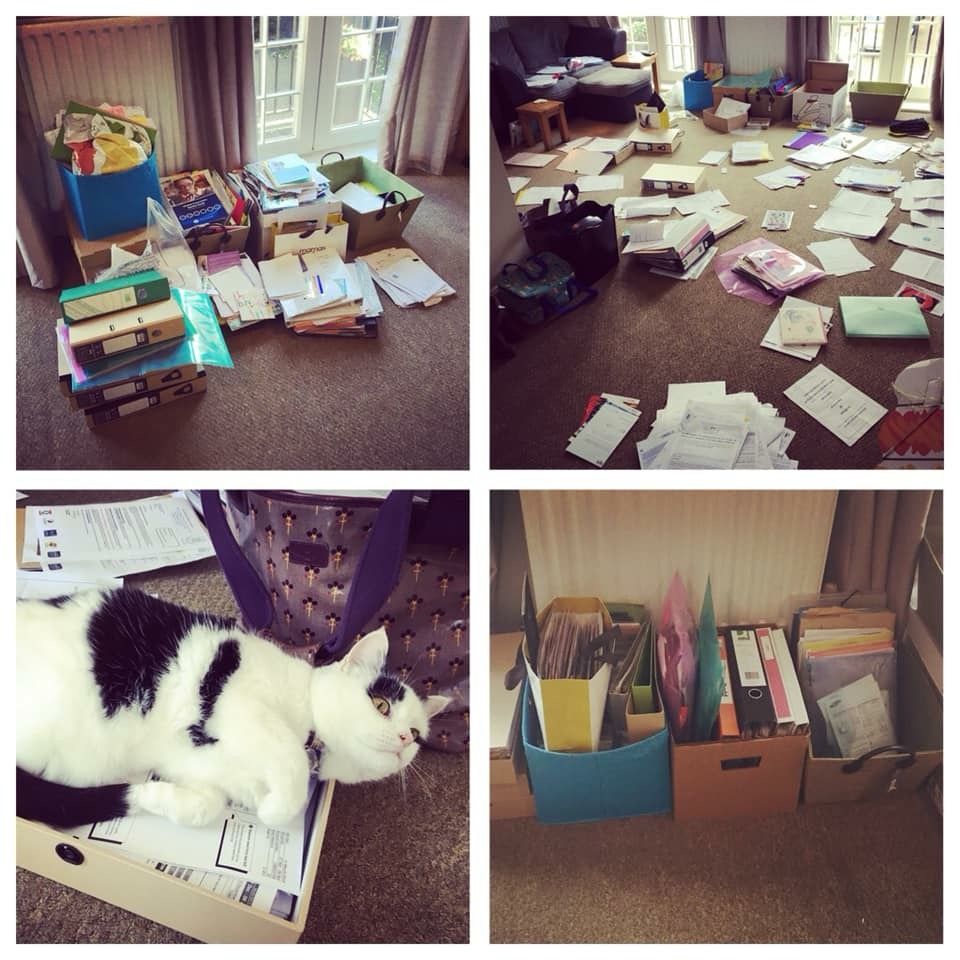 Paperwork system & filing, Epsom
"Di provided the much needed help to break the back of our paperwork, as a busy family we just don't get the chance.
It was this help that enabled us to face sorting our computer room out properly, what a relief! I feel so much better and relaxed already. Thanks again, would definitely recommend Di!"
Storage Unit inventory & clearance, Weybridge
"I am 82 and no longer capable of undertaking tasks I could once perform without assustance. After suffering a stroke in December 2011, I decided to sell my house in Deal in Kent and move to a location nearer to my family, downsizing in the process. I initially rented, storing a large number of my possessions in a storage unit. After a number of years, I decided to purchase a small retirement flat in Weybridge. After living there for two years (and in consultation with my relations), I decided that I should dispose of most of the belongings I had in storage to save money (which was in excess of £200 per month). We searched the internet to find a suitable organisation that would be able to assist with the task of disposal. Via another APDO member, we were introduced to Di at Simply Organised, and she agreed that she would be prepared to create an itinerary of all the belongings that I had in store and help make proposals for dispersing them. I was very satisfied with the terms and conditions and Di agreed to begin the task towards the end of February 2019.

Over a period of four months Di has catalogued the contents of about 200 boxes of assorted belongings. With the use of appropriate software, we jointly assessed the entire contents and agreed how best to re-locate or dispose of them. She has made numerous trips to various charities and has helped dispose of many other items that were unsuitable for charity.

Before the end of June 2019 I was able to terminate my rental agreement on the original storage unit which was a saving of £235 per month (I am continuing to rent a much smaller unit short term to store a few items).

Throughout the duration of this task, I have been entirely satisfied with the way in which Di has undertaken her work. Her costs are reasonable and her manner is charming. She is very energetic and hard working and has an enthusiastic and flexible approach which is the perfect way to deal with this type of work. She is willing to undertake any task that she is set, and she uses her initiative and professional experience to propose solutions for problems that arise unexpectedly in the course of day to day activity.
I have been entirely satisfied with every aspect of Di's work and would unhesitatingly recommend her to anyone who has a task which requires the services of a cheerful, hard working, consummate professional in the field of decluttering or organisation"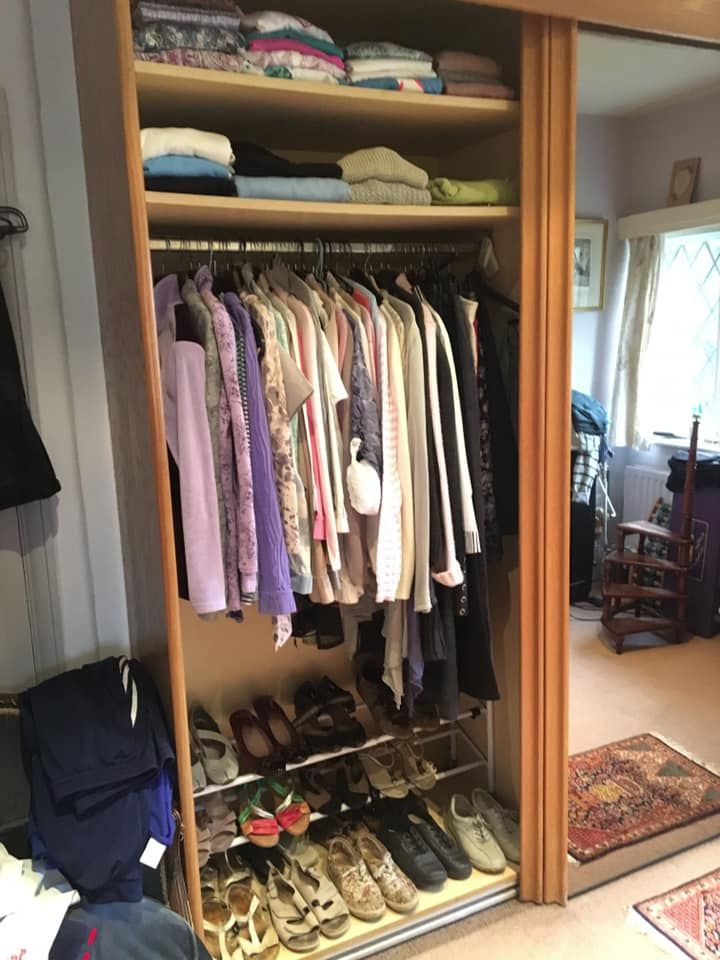 Wardrobe edit, Thames Ditton
"We are hoping to downsize in the not too distant future but the thought of clearing the house was just too big a mountain to face. I didn't know where to start. Di's assistance and advice was invaluable in helping me to start that process. I will certainly be having some more 'clearing' sessions with her"